The Client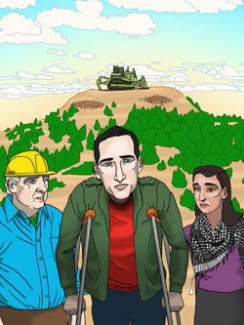 Motti Lerner's The Admission, set in Haifa during the first Intifada, is an Israeli homage to Arthur Miller's All My Sons. The play focuses on a wounded Israeli veteran's search for truth surrounding the deaths of a group of Palestinian villagers by an Israeli unit his father had commanded 40 years earlier.
The Opportunity
The Admission faced fierce criticism around its initial, albeit successful run at Theater J in early 2014. Due to this criticism, the run at Theatre J was cut short and benefactors sought to bring the play to the Studio Theatre for a limited engagement in an effort to continue the thought-provoking dialogue initiated by the play.
The Strategy
In the weeks leading up to the workshop production of The Admission at Studio Theatre, the team worked with the Studio Theatre production's producers to create and execute a plan to garner press attention and public interest for this limited engagement. This included press stories, theater reviews and key, targeted advertisements throughout the D.C. metro area.
The Results
As a result of our targeted, strategic outreach and advertising plans, The Admission was reviewed by mainstream, Jewish and theater publications, and drew substantial audiences for each performance. The team reached out to reporters and media outlets that had covered similar events and plays in the past. This research allowed for meaningful interactions with members of the press most likely to show interest in The Admission and its story. Through highly targeted advertising, narrowed by location, outlet type and audience size, the advertising for the limited run of the play at Studio Theatre reached over 700,000, all of whom fit into the predefined audience of those likely to attend the performance.