Steve Rabinowitz

---
Adapted from Wikipedia, the free encyclopedia
Steven M. Rabinowitz (born January 17, 1957) is a political image maker, media strategist, publicist, and event planner whose primary work is for progressive, Democratic, and Jewish causes. He is frequently quoted in U.S., Israeli and Jewish news media, and has had opinion pieces appear in numerous outlets.
In 2004, the Jewish Forward newspaper named him among the 50 most influential Jews in America. Eleven years later, JTA (form. the Jewish Telegraphic Agency) called his firm "the lead public relations outfit handling Jewish communal accounts."
A former Bill Clinton White House press aide, he founded Bluelight Strategies in late 2014 with longtime colleague and Capitol Hill veteran (and more recently Joe Biden alumnus) Aaron Keyak, as a successor to Rabinowitz Communications and Rabinowitz/Dorf Communications.
Rabinowitz is a veteran of the national staffs of nine U.S, presidential campaigns and of numerous other campaigns for almost every political office, from U.S. Senate to county sheriff.
At Bluelight, where he serves as president, Rabinowitz was instrumental in 2012 in creating The Hub, which worked to ensure the Jewish vote for President Barack Obama and then-Vice President Joe Biden's reelection. He was a founder of Jews for Progress, a pro-Israel super PAC created to boost support for 2016 Democratic presidential nominee Hillary Clinton among Jews in swing states. And in 2020, he supported his colleague Aaron Keyak, who left their firm to work full-time for Joe Biden as his Jewish liaison on Biden's own presidential campaign and in the transition thereafter.

Biography
Steve Rabinowitz, the only child of the late Dorothy and Harold Rabinowitz, grew up in Tucson, Arizona, where he attended Tucson High School and the University of Arizona. He and his wife, Laurie Moskowitz, Principal at Lore Strategies, a firm specializing in political consulting, campaign advocacy, coalition building and partnerships, and former senior director for U.S. campaigns at the ONE Campaign, live in Washington, D.C., with their two sons, Jake and Sammy.
Political career
Rabinowitz was national youth coordinator for his hometown Congressman, Democrat Mo Udall's 1975-76 presidential campaign, traveling the country organizing college campuses for Udall, advancing him on visits to others, and helping still others to organize themselves, using materials begun as an organizing manual first drafted on the back of a restaurant napkin.
He subsequently worked on the paid national staffs of the U.S. presidential campaigns of fmr. CA Gov. Jerry Brown, IL Cong. John B. Anderson, CO Sen. Gary Hart, fmr. VP Walter Mondale, IL Sen. Paul Simon, MA Gov. Michael Dukakis, NE Sen. Bob Kerrey, and AR Gov. Bill Clinton. He headed Clinton's 1992 campaign press advance team, traveling full-time with the future president, overseeing the production of all public media events with an eye toward how they would appear on each night's TV news or in the next day's newspaper. During that campaign cycle, he also became widely known as "the rabbi," a play on his last name, hosting the campaign Yom Kippur breakfast at his rented home in Little Rock. Hillary Clinton credits Rabinowitz with coming up with the term Hillaryland.
Also during the 1992 Bill Clinton campaign and working with his colleague Jeff Eller, Rabinowitz helped remake the classic political town hall meeting, routinely placing Clinton in the center of a "bowl" of seated voters, surrounded and tiered on at least three sides, while Eller worked with local television stations for live regional and even national broadcast, and Clinton left the stool in the center of the audience and directly and personally engaged individual, unscripted questioners, regardless of where they sat nor the camera angle it produced. The format has been repeated hundreds of times since, including by Pres. Biden.
The White House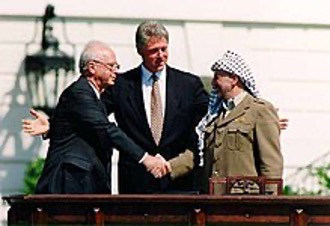 In 1993, Rabinowitz was named Bill Clinton's White House director of media planning. Among the very many presidential events he staged at the White House and away, Rabinowitz helped produce the handshake peace treaty signings between Israel and the Palestinians on the White House South Lawn in September 1993, and between Israel and Jordan in the Arava in October 1994.
He traveled to Jerusalem with President Clinton and separately with Vice President Gore and with President Clinton also to Aqaba, Jordon for the signing of a peace accord between Jordan and Israel on their exact border in the Arava Valley where a site had been paved with fresh asphalt just for the event, with Jordan's King Hussein, Israel's Yitzhak Rabin and President Clinton all sitting at a large ornate walnut table in the hot desert sun.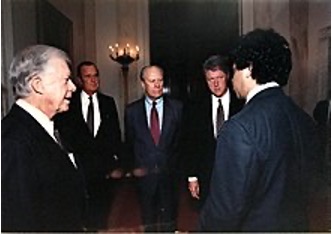 He also produced an East Room presidential signing of the North American Free Trade Agreement (NAFTA), witnessed by three of Clinton's predecessors – Presidents George H.W. Bush, Jimmy Carter, and Gerald Ford.
Rabinowitz traveled as well on elite Clinton "pre-advance" teams to do early planning in Vancouver, B.C., long before a planned summit meeting with Russian President Boris Yeltsin and a meeting with Canadian PM Mulroney; in Tokyo equally long before attending an Economic Summit Meeting with the Heads of State and Governments of Canada, France, Germany, Italy, Japan, and the UK, and also meeting again with Pres. Yeltsin; in Seoul for the same with a meeting with Korean President Kim and visits with U.S. military personnel in the DMZ; and also near Seattle for the gathering of the APEC summit, featuring 13 Asian Pacific nations' leaders on Blake Island in the middle of Puget Sound, eight miles southwest of Seattle.
In addition, there were numerous summit-like bilateral meetings in Washington and on the sidelines of the yearly U.N. General Assembly meetings in New York. Rabinowitz invariably produced or orchestrated brief photo ops at the beginnings of each of these.
Also in 1993, Rabinowitz organized and led the first White House Passover seder – for 50 Clinton White House and Administration staff. The traditional event was held in the Indian Treaty Room and catered kosher.
The Hub
During Obama and Biden's 2012 reelection campaign, Rabinowitz helped create the Jewish Media Hub (The Hub), a political nonprofit directed at boosting the incumbent ticket's standing among American Jews.
In 2014, he, Keyak, Marc Stanley, and Fran Katz Watson launched Jewish Americans Ready for Hillary to support a 2016 presidential run for Hillary Clinton in the Jewish community.
In 2016, Rabinowitz helped kick off and run Jews for Progress, a political action committee created to defend Hillary Clinton and persuade Jewish voters in swing states to support her. Employing tactics much like those used in The Hub, the No Nukes for Iran Project, which Rabinowitz advised and that supported the Obama-Biden administration's nuclear agreement with Iran, and Jews for Progress both used video, print, online and social media advertising and phones to target Jewish voters and influentials. In the case of Jews for Progress, polling showed a subsequent increase in the Jewish vote for Clinton over that for Barack Obama four years earlier, as all other Democratic Party base groups' votes dropped. Rabinowitz also often volunteered alongside his former business partner Keyak, the Joe Biden Jewish liaison, where helpful, both on the 2020 general election campaign, and in the subsequent presidential transition, to some extent, and since.
Rabinowitz served on the national staffs of nine U.S. presidential campaigns in total and was an informal adviser to the presidential campaigns of the Bill Clinton re-elect in 1996, Al Gore in 2000, John Kerry in 2004, both Hillary Clinton campaigns (2008 and 2016), and both Barack Obama campaigns (2008 and 2012). He produced Al Gore's official announcement for president in his hometown of Carthage, Tennessee. He was a paid staffer for Jim Florio and Peter Shapiro, both for governor of New Jersey, for Carolyn Warner for governor of Arizona, and Pat Leahy for re-election to the U.S. Senate from Vermont. And in 1980 Rabinowitz ran for office himself – unsuccessfully – seeking the school board in the Catalina Foothills School District in northern Tucson.
He also worked on Capitol Hill in the official Congressional offices of IL U.S. Sen. Alan Dixon and then-CA Rep. Barbara Boxer.
QRS NewMedia
QRS NewMedia, a company Rabinowitz co-founded with Laura Quinn and Mark Steitz to handle satellite feeds and radio actualities for the 1996 Clinton-Gore campaign. Using technology that Rabinowitz brought to national politics for Bill Clinton in 1992, QRS added census data and Nielsen research on each of the nation's television stations to produce breakdowns of viewing audiences, providing campaigns and political strategists with detailed information, including demographics, lifestyles and family income, on who watched what news programs. QRS also created high-tech media presentations for political, government and corporate entities in the years since.
Media Training
Rabinowitz often does media training for nonprofits, political orgs such as the Democratic National Committee and Emily's List, and for corporations, and has taught political communications and crisis management for years in The George Washington University School of Media and Public Affairs and in the graduate schools of Government and of Communication in the Krieger School of Arts and Sciences at the Johns Hopkins University. He has also guest lectured at Georgetown University, American University in Washington, and the Hebrew University in Jerusalem.
Crisis Communications
In addition to teaching crisis communications, Rabinowitz has handled political crisis management for campaigns, officeholders and individuals running for office, as well as guiding numerous nonprofits and synagogues facing various crises. While most required discrete and only private communication, others were much higher profile – among them Hadassah, the Women's Zionist Organization of America, which reportedly and innocently lost tens of millions of dollars in the Bernard Madoff Ponzi scheme investment scandal of 1998. The organization reportedly lost $90 million dollars of donor money and investment earnings, and Hadassah officials were unwilling to be forthcoming immediately about its full exposures in the scandal. Rabinowitz served as its media strategist and sole intermediary with the press. Subsequent mini crises involved Hadassah's agreement to pay $45 million in clawback claims, the staggering $300 million debt and near bankruptcy of its legendary Jerusalem hospital on Mount Scopus, its selling off of many of its properties in Israel and Manhattan, the spinning off of its respected youth group Young Judaea and their popular summer camps, and the considerable staff reduction and closing of 16 of its offices, including the then Washington, D.C. office.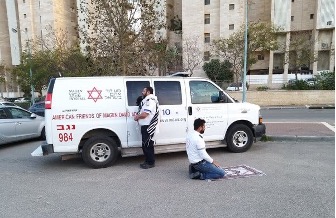 Israeli Hospitals, Universities, the Red Cross
While serving for years, for better or worse, as the American spokesman for Hadassah Hospitals at Ein Kerem and Mount Scopus – both in Jerusalem – Rabinowitz was still representing the group during construction of its new 19-story inpatient Sarah Wetsman Davidson Hospital Tower on the Ein Kerem campus. He also served as an American spokesman for Rambam Hospital in Haifa, for Ben-Gurion University of the Negev in Be'er Sheva, for Tel Aviv University and its Beit Hatfutsot – The Museum of the Jewish People, and for years for American Friends of Magen David Adom and Magen David Adom (MDA), Israel's national emergency medical, disaster, ambulance, and blood bank service, and a member of the International Federation of Red Cross and Red Crescent Societies. During his years as an American spokesman for MDA, two of their regular ambulance EMT's, an observant Jew from Be'er Sheva and a Muslim Arab from close-by Rahat, were widely pictured on social media engaged in their regular, concurrent, and respective daily prayers. With a little help, the image went viral and was also written about almost everywhere, beginning, perhaps, with The New York Times.
Jewish Women's Groups
And in addition to "the Hadassah Women," as the venerable American NGO is pejoratively known in Israel, Rabinowitz has also worked for years, cumulatively, for Jewish Women International (JWI), the National Council of Jewish Women (NCJW), Women's League for Conservative Judaism, Women of Reform Judaism (WRJ), and even Women's American ORT, albeit many years ago.
Synagogue Movements
Over the years, Rabinowitz has also worked for most all the streams of modern Judaism – Reform, Conservative, Orthodox and even Haredi (or ultra-Orthodox) – and sometimes more than one at the same time. He started with the old Union of American Hebrew Congregations (UAHC), which in 2003 became the Union for Reform Judaism (URJ), and also for many years for its renown Washington office, the Religious Action Center of Reform Judaism (RAC) and for its Zionist arm (ARZA); for his own movement, the United Synagogue of Conservative Judaism (USCJ) and its rabbinic arm the Rabbinical Assembly (RA); for the Orthodox Union (OU); and even (mostly all volunteer/pro bono) for American Friends of Lubavitch (Chabad); He worked briefly as well in the U.S. and Israel for the international modern Orthodox Ohr Torah Stone when Rabbi Kenneth Brander took over the organization in 2000 from its founder Rabbi Shlomo Riskin.
Rabinowitz also consulted synagogue youth groups United Synagogue Youth (USY) and NFTY: The Reform Jewish Youth Movement, both in the 90's, as well as BBYO, and Diller Teen Initiative, which helps teens explore Jewish identity, leadership, and service, building connections across North American and Israeli communities.
Major Jewish/Pro-Israel Events
Rabinowitz helped organize a 2002 Israel rally in Washington, DC, on the West Front of the Capitol that drew an estimated crowd of 100,000, and the Israel@60 celebration on the National Mall in 2008. The Israel@60 celebration featured a wide range of performers. Rabinowitz assisted with traditional advertising and guerilla marketing for the event, attracting 50,000-75,000 people. And in July of this year, he was brought back to the Capitol to help ensure as broad a coalition as possible for a much more modest rally against antisemitism that ultimately enjoyed nearly 100 co-sponsors.

Rabbinic Resource Guides
Rabinowitz may or may not have invented the Rabbinic Resource Guide – a digest of sorts to provide rabbis with fresh sources from which they might write sermons or homilies on issues of the day – but he certainly has all but perfected the medium, having put out a half-dozen or more different of them over nearly 30 years. For Israel Policy Forum, he edited one on the 1994 Middle East Peace Process (written on WordPerfect for DOS); on Religious Freedom in 1996 Israel for the New Israel Fund; Travel to Israel for the 2006 Jewish High Holidays for Birthright Israel; Seeking Peace in 2011 for the Israeli Foreign Ministry; Peace and Security in Israel for the September 2014 Jewish New Year, also for the Israeli Foreign Affairs Ministry; and on Antisemitism and the Anniversary of the Tree of Life Synagogue Attack in 2019 for American Jewish Committee (AJC).
Jewish Community in the U.S.
Rabinowitz has for many years worked for, consulted, advised, and volunteered for much of the Federation system of the North American Jewish community, beginning with its umbrella organizations the Jewish Federations of North America (JFNA) and its predecessor United Jewish Communities (UJC), as well as their more political arms, the Jewish Council for Public Affairs (JCPA) and its predecessor the National Jewish Community Relations Advisory Council (NJCRAC). Also, for many of their biggest 146-125 local Jewish Federations and Jewish community relations councils, including those such as UJA Federation of New York, Washington DC, Philadelphia, and the Jewish United Fund/Jewish Federation of Metropolitan Chicago. AJC and Jewish National Fund (JNF), too, and the American Joint Distribution Committee (The Joint).
The biggest umbrella organization, the Conference of Presidents of Major American Jewish Organizations, is a major current client.
Middle East/Middle East Peace
Fresh from having just left the White House staff, Rabinowitz's very first client as Rabinowitz Communications in 1994 was Israel Policy Forum (IPF), which itself grew out of the Declaration of Principles signing on the White House South Lawn September 13, 1993, which he media produced. He would continue to work for years for Americans for Peace Now (APN), the Center for Middle East Peace (CMEP), and even very occasionally AIPAC. (The firm worked for J Street.)
One project involved a series of 13 full-page ads that Rabinowitz and his firm designed and placed in The New York Times for the S. Daniel Abraham Center for Middle East Peace about the peace process between Israel and the Palestinians. The firm also designed and placed similar print and online advertising appearing in Jewish media and on nytimes.com.
Religious Pluralism in Israel
The pluralism wars in Israel took off with the conversion crisis over the status of non-Orthodox conversions in an Israeli Supreme Court case of 1996 and continued with the Ne'eman Commission on religious councils, a strengthening of the Law of Return, the fight for new egalitarian or pluralistic sections of the Kotel (Western Wall), the advent and growth of Women of the Wall, and with arguments over marriage, divorce, burial, and the very question of Who is a Jew. Through it all, Rabinowitz was a media advisor to both the Reform and Conservative movements of Judaism and to the Jewish Federations of North America, all major players in the debate, and often, all at the same time. He sometimes advised the New Israel Fund, as well.
Called Out by Netanyahu
In May 1996, Benjamin Netanyahu, then the leader of Israel's Likud party, was being interviewed live on Kol Yisrael radio – Reshet Bet (ch. 2) in Hebrew – by veteran anchor Arye Golan about his campaign against Ehud Barak for prime minister – a campaign he would eventually win. In the weeks leading up to the interview and the election, there had been multiple media reports about Netanyahu having legally changed his name when he lived in the U.S. (to Ben Natay), of him allegedly having delayed surrendering his U.S. passport beyond when he was legally required, issues around his American credit report and Social Security number, and other political so-called opposition research. Golan asked about then-very recent break-ins to the Washington offices of Barak's American pollster Stan Greenberg – some even comparing them to the Watergate break-in of the Nixon era. Netanyahu responded that Barak's Labor party had someone in the States who did their "dirty work for them." "They don't do it themselves," he said in Hebrew, "they have someone who does it for them, who rises up at election time; Rabinovitch." "STEVE Rabinovitch?" Golan asked, his curious voice rising. "Yes!" Netanyahu exclaimed ominously. "And we know of other things …"
Israel's Labor Party
Working for Israel Policy Forum and others in the early 90's, Rabinowitz informally advised Labor Party leaders in Israel on Western speaking styles and how to better produce and project their remarks and on how to design their speaking events to enhance their overall message delivery, whether in Hebrew or English. Decades later, he would similarly advise Knesset member and venture capitalist Erel Margalit on his nascent campaign to lead the Labor Party there.
The Holocaust
In 2005, when Yad Vashem, the World Holocaust Remembrance Center in Jerusalem, was set to dedicate a new, much larger, and more technologically advanced museum and campus to replace the old one of almost 50 years, they called on Rabinowitz to handle all their non-Israeli media for the opening in the presence of leaders from 40 foreign states and the then-Secretary General of the UN.
Also in 2005, Rabinowitz spent two weeks in Poland preparing for the 60th anniversary celebration of the liberation of the Auschwitz-Birkenau Nazi concentration camp there and its considerable international press coverage. The event was sponsored by Yad Vashem and the European Jewish Congress, under the aegis of the World Holocaust Forum Foundation, and attended by more than 40 world leaders, including heads of state from Russia, Poland, Germany, France and Israel and by the then-U.S. Vice President Dick Cheney.
And on April 22, 1993, the U.S. Holocaust Memorial Museum (USHMM) was dedicated in Washington, DC, including speeches by American President Bill Clinton, Israeli President Chaim Herzog, and by Holocaust Commission Chairman and survivor Elie Wiesel. Earlier that day, Rabinowitz had helped produce 13 separate and independent bilateral meetings and photo opportunities in the White House Blue Room for Clinton and each of the visiting European heads of state (and their respective national media), in town for the Holocaust Museum dedication. And the night before, when Clinton was given a private tour of the museum, Rabinowitz tagged along. (Several days later, when the museum opened to the public, its first visitor was the 14th Dalai Lama of Tibet.)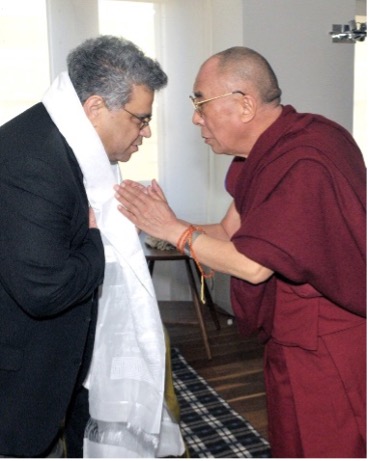 The Dalai Lama/Human Rights
Since the mid-1990's and usually in coordination with the International Campaign for Tibet (ICT), Rabinowitz has many times helped coordinate media logistics for visits to Washington, D.C. of the Dalai Lama (HHDL), often also serving as his primary press contact. And in 2009, the Dalai Lama visited Adas Israel Congregation, the Conservative movement synagogue in Washington where Rabinowitz and his family worship, to bless the new sukkah Rabinowitz had just engineered on the synagogue's west front. One day earlier, the Dalai Lama presented Rabinowitz with a khata, the ceremonial Tibetan Buddhist scarf, during a private audience.
In addition to ICT, Rabinowitz has worked briefly for the human rights group Amnesty International and for the Soros Foundation, with Human Rights First and the Open Society Institute, especially in the Balkans and Central Europe, for Save Darfur, for the Israeli human rights group B'Tzelem and for years for the Lantos Foundation.
Rabinowitz publicized the awarding of the first Lantos Human Rights Prize to the Dalai Lama in 2009 and subsequent Prizes to Elie Wiesel, Paul Rusesabagina, Chen Guangcheng, Hillary Clinton, and Shimon Peres.
Antisemitism/Anti-Islamophobia
In addition to creating the rabbinic resource guide on Antisemitism and the Anniversary of the Tree of Life Synagogue Attack in 2019 for AJC, Rabinowitz and the firm worked for quite a number of organizations fighting against antisemitism. Most notably among them the Conference of Presidents, Israel Action Center (IAC) and the Combat Antisemitism Movement (CAS), the Nexus Task Force at USC Annenberg, and specifically on college campus: the Academic Engagement Network (AEN) and Israel on Campus Coalition (ICC). He worked individually, as well, with colleges that had particular reputational problems, such as Hampshire College and Oberlin College.
Meanwhile, he and the firm simultaneously worked with numerous religious nonprofits to combat Islamophobia, on events and group press conferences routinely hosted at the Washington National Cathedral – also a very longtime client – and often organized by or in partial support of Shoulder to Shoulder or the Islamic Society of North America (ISNA).
Qatar
Rabinowitz has done considerable work on efforts critical of the Gulf state of Qatar. He and his firm were responsible for media and helped organize the Qatar Global Security & Stability Conference, a 2017 confab in London, assisting in securing speakers, staging the high-profile event, and widely publicizing it.
He also helped publicize a Foundation for Defense of Democracies conference five years ago, Qatar and the Muslim Brotherhood's Global Affiliates: New U.S. Administration Considers New Policies, with former Secretary of Defense Robert Gates, and was responsible for the media strategy and publicity for a similar Hudson Institute event on Qatar, with former Defense Secretary Leon Panetta and former Director of the CIA General David Petraeus. Additionally, he organized and publicized a press conference in June 2017 for Egyptian journalist Mohamed Fahmy, who is suing the Qatari-funded Al Jazeera, and he publicized a protest outside the Qatari Embassy in Washington by the local Jewish community.
Rabinowitz and his firm worked on another international forum on sports integrity in London several years ago, that, among other things, explored the propriety of how Russia and Qatar so unusually came to host the 2018 and 2022 FIFA World Cup.
Over the years, Rabinowitz has worked on quite a number of different environment-oriented projects and clients, including Earth Justice in upstate New York, outside Ithaca, where he worked with a group of community activists who sought to ban fracking in the town of Dryden.
From 2001 to 2006, Rabinowitz Communications worked with the Union of Concerned Scientists on, at a minimum, five different projects. These included campaigns around fuel economy, clean and hybrid vehicles, global warming, Josh Bolton's nomination for U.S. ambassador to the United Nations, and grass-fed beef and dairy cattle. The fuel economy campaign included production of a slick new SUV brochure, just as you might see at a new car dealership, but titled "The SUV of the Future Looks Just Like the SUV of Today." Inside above the political messaging, it read, "Only 100% More Fuel Efficient."
For the Jewish Council for Public Affairs (JCPA) and the Coalition on the Environment and Jewish Life (COEJL), Rabinowitz wrote op-eds and placed multiple news stories.
And he worked with the Wilderness Society to support a Clinton Administration initiative to put and keep one-third of national forest land off limits to new development.
Campaign Finance Reform
Rabinowitz worked for many years with then-Univ. of Wisconsin Prof. Ken Goldstein, distributing detailed data and analysis on political campaign advertising to the nation's leading media and earning countless high-profile stories in numerous publications such as The New York Times, Wall Street Journal and Washington Post, and garnering Goldstein appearances on PBS Newshour, ABC Nightline and World News Tonight, NBC Nightly News, CBS Evening News, FOX News Channel, MSNBC, CNBC, and on CNN. He also worked slightly similarly for several years with Prof. David Magelby at Brigham Young University (BYU) and with the staff of the Campaign Finance Institute.
Music/Movie promoter
In the 1980s and between political campaigns, Rabinowitz worked as a music promoter in Tucson, Arizona, producing concerts, music festivals and shows, an extended play (EP) Rock & Roll record and a Country Punk cassette tape, as well as radio shows, all featuring local bands.
In 1984, Rabinowitz was a member of a Universal Pictures team managing the openings of its controversial film The Last Temptation of Christ around the country. They coordinated local media coverage and worked with various theater management and local police to contain protests; but when protests began to wane, they worked to generate larger, more media-enticing demonstrations. Rabinowitz also organized the Washington premier of director Spike Lee's 1989 movie Do the Right Thing.
Recently, Rabinowitz briefly promoted Jewzy.tv & Cinema, a relatively new streaming platform featuring almost exclusively Jewish content.
Board and Volunteer Service and other Pro Bono Work
Active at Adas Israel Congregation in Washington, D.C., Rabinowitz was assistant treasurer, having served for years as its vice president for membership and external affairs. He also is active in the Conservative movement synagogue's traditional egalitarian minyan. In 2016, he and his wife were honored by the Jewish Primary Day School of the Nation's Capital (now Milton Gottesman Jewish Day School…), where he chaired the annual Rabin lecture for many years. He has served on the executive committee of the National Jewish Democratic Council (NJDC) and of Avodah.
Rabinowitz does considerable pro bono media work for the National Institute for Civil Discourse (NICD) at the University of Arizona and for the NEXUS Task Force on Antisemitism at the Annenberg School at USC, as he has recently for the Hebrew Free Loan Association of Greater Washington and did years ago for the Hebrew Free Burial Association of New York.
Rabinowitz and Moskowitz have co-hosted yearly high-end kosher fundraising dinners at their Washington home for Sips & Suppers in support of the community kitchen DC Central Kitchen and the children's food and clothing charity Martha's Table.
Latkes & Vodkas
His firm's signature annual holiday party, Latkes & Vodkas (a Trademarked name and the first known party to ever be so called), has drawn hundreds of invited guests each of its 20 years.
Published articles
Rabinowitz has been published widely in the American and Jewish press, mainly on political topics. At the close of the Obama-Biden administration, he published his thoughts over "Eight years watching the first Jewish US president."
In April 2021, he reflected upon the death of Bernie Madoff. In August 2020, he discussed what synagogues planning on streaming their High Holiday services could learn from then-recently streamed political party conventions also operating during the Covid-19 pandemic. He has published on why Joe Biden ought be regarded as a mensch, and a hilarious piece mocking former President Donald J. Trump's messianic pretensions.
Personal
Steve Rabinowitz (born January 17, 1957), the son of the late Dorothy and Harold Rabinowitz, grew up in Tucson, Arizona. He attended Tucson High School, where he studied Spanish and music theory and little else and was president of the school band, the Marching 100. He was active in his synagogue youth group USY and both attended and worked at Camp Ramah in California, the Conservative Jewish movement summer camp in Ojai. At the University of Arizona, Rabinowitz studied political science and journalism and quite remarkably would teach both decades later at the graduate schools of Johns Hopkins University. His wife, Laurie Moskowitz, founder of the grassroots organizing and campaign consulting firm FieldWorks, and former seven-year senior director for U.S. campaigns at the ONE Campaign, is founder and proprietor of LORE Strategies, specializing in strategy, grassroots organizing and partnerships among campaigns, nonprofits, and businesses. They live in the Cleveland Park neighborhood of Washington, D.C. with their two sons, Jake, a freshman in the Kelly Business School at Indiana University, and Sammy, a senior in instrumental music at the Duke Ellington School of the Arts, and their aging 14-year-old chocolate lab Zeke.